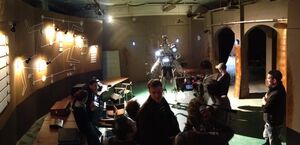 Overview
The Bunker is an underground base underneath M.I.9 HQ. This was where Frank London, Stella Knight directed the war with KORPS.
Trivia
The Bunker's equipment is out of date and Tom Tupper jokingly asks "Did a caveman sit here?"
The walls are made of titanium which allowed Dan Morgan to turn the wall into an electromagnet in "Trojan KORPS".
During the secret world war with KORPS there were 150 agents working in the bunker and 200 similar facilities around the world.
The bunker is a restricted high-security area.
Gallery