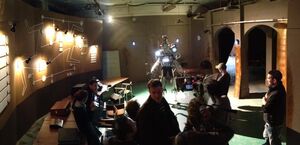 The Bunker is an underground base underneath M.I.9 HQ. This was where Frank London, Stella Knight and many other M.I.9 agents worked over 10 years ago during the first war with KORPS.
Trivia
The Bunker's equipment is out of date and Tom Tupper jokingly asks "Did a caveman sit here?"
The walls are made of titanium which allowed Dan Morgan to turn the wall into an electromagnet in "Trojan KORPS".
Gallery
Ad blocker interference detected!
Wikia is a free-to-use site that makes money from advertising. We have a modified experience for viewers using ad blockers

Wikia is not accessible if you've made further modifications. Remove the custom ad blocker rule(s) and the page will load as expected.