Biography
Davina Berry is ditzy one in the class. She only cares about fashion and has a fear of folk music which she overcomes in "The Mole". She joins Saint Hopes in Series 3. Davina is generally seen hanging around with Donovan, who she gets on with most of the time but she bosses him around, but in Series 5  begins to show a close friendship with Avril, despite their differences. She joins Avril and Scoop to become a new spy in "The B Team", using her expert make up skills to help the team save the day. She is closest with Carrie out of the three main spies, whom she makes a special bond with in "The Patient" when, on a night time trip to the loo, they both seemingly encounter "The Grey Lady of Saint Hopes". This relationship is then shown again when Davina offers to take Carrie Stewart shopping and "sort out [her] wardrobe" at the end of "The B Team".
Gallery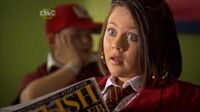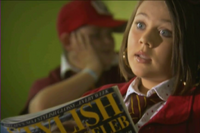 Ad blocker interference detected!
Wikia is a free-to-use site that makes money from advertising. We have a modified experience for viewers using ad blockers

Wikia is not accessible if you've made further modifications. Remove the custom ad blocker rule(s) and the page will load as expected.