Biography
Edward Dixon-Halliday is Oscar Cole's (born Oscar Dixon-Halliday) father. Formally married to Jade Dixon-Halliday. When Oscar was four he went on a mission in Africa. After being captured it took 9 years to escape. By then he went and joined SKUL (Secret Kriminal Underground League) as a under cover agent. When Oscar also does this he is asked to help capture the head of M.I.9 with an agent called Vincent. When Oscar returns to SKUL he is also put in the cage with the leader of MI9. Later on Rose and Carrie find a box containing everything to make a quick getaway. When going through the box Vincent walks in and tells them he knows Edward. As he barges in to the apartment he asks "Now why would I want to break into my own apartment" and the girls find out Vincent is Oscar's father Edward. As they escape Oscar and Edward are still inside the SKUL base and is blows up. Rose and Carrie burst into tears. When then suddenly the both appear out of the smoke. Edward returns to MI9 and sets up an elite team of agents and Rose, Oscar and Carrie go and save the world.
Edward left Oscar a signet ring with his initials on it that Oscar treasures and was devastated when it was confiscated. It is revealed in "The Lost Hero" the ring is DNA sensitive and Edward uses it to break the lock on the SKUL. prison cell door.
Gallery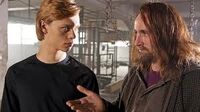 Ad blocker interference detected!
Wikia is a free-to-use site that makes money from advertising. We have a modified experience for viewers using ad blockers

Wikia is not accessible if you've made further modifications. Remove the custom ad blocker rule(s) and the page will load as expected.