Green Finger is episode 12 of Series 2.
Synopsis
When crazed plants attack anti-green targets, Blane goes solo, but it's unclear whether his boy power is enough to weed out this enemy.
Trivia
References to the spy genre.
First appearance of Charlie Darwin.
First time Blane was on a solo mission.
Gallery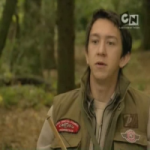 Videos