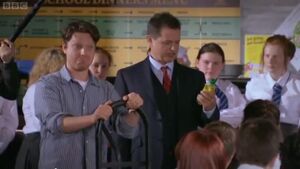 Biography
Jimmy Jubbly is a celebrity chef who appeared in the episode; "The Hive". He is the second celebrity chef to appear in the show, the first being Tommy Blumenheck in; "Don't Cook Now'. He is portrayed by Rhys Thomas.
Jubblyade
Jimmy Jubbly was the creator of Jubblyade; a drink that would help school children improve their health. Later, he created a recipe which acted as an antidote to the Crime Minister's verson of Jubblyade; which contained a mind control chemical.
Jimmy unknowingly helped the Crime Minister to administer Jubblyade into the children's body; as too much of the concentrated version would have been rejected by the immune system.
When he realized that the Crime Minister had tricked him, he worked with Aneisha to create an antidote, which he gave out by throwing pies containing the antidote and squirting it through a water gun.
Gallery
Ad blocker interference detected!
Wikia is a free-to-use site that makes money from advertising. We have a modified experience for viewers using ad blockers

Wikia is not accessible if you've made further modifications. Remove the custom ad blocker rule(s) and the page will load as expected.