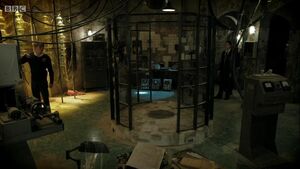 Overview
The KORPS Saint Hearts base is located under Saint Hearts and Walter M. Dainbridge's was lab in 1941. Dainbridge created the super soldier program, a laser, and the genius serum in the facility. The base with sealed after Dainbridge's arrest and the Saint hearts MI9 was built in an adjacent tunnel.
Seen
Trivia
The base is located hundreds of meters below Saint hearts.
There is a tunnel that connects to the M.I.9 base.
Dainbridge kept the bases location secret from KORPS.
Gallery
Ad blocker interference detected!
Wikia is a free-to-use site that makes money from advertising. We have a modified experience for viewers using ad blockers

Wikia is not accessible if you've made further modifications. Remove the custom ad blocker rule(s) and the page will load as expected.