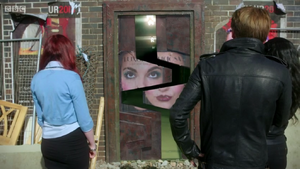 Overview
The Mayze is a KORPS base that has been abandoned for 10 years. Each level of the Mayze was run by a different division of KORPS.
In "The Mayze", Tom noted that the bottom floor was about 0.5 miles underground and he was not even sure if it was the bottom. Each level of The Mayze was operated by a different division of KORPS.
Trivia
An M.I.9 team was sent to find the base 12 years ago but vanished. The corpses were found in "The Mayze".
The walls on the VIZION ground level moved in order to make an actual maze that trapped intruders.
On the SKOTOMA level KORPS scientists were developing Stealth Robotics.
The STERNUM level is where Keri and Libi were experimented on. It is also where Libi lived after Keri was released. It is 5 levels under the SKOTOMA level.
Gallery
Ad blocker interference detected!
Wikia is a free-to-use site that makes money from advertising. We have a modified experience for viewers using ad blockers

Wikia is not accessible if you've made further modifications. Remove the custom ad blocker rule(s) and the page will load as expected.