Biography
Melissa is the student president of Saint Hearts. She is shown as a teacher's pet. She also seems to have an obsessive crush on Dan Morgan, and seems oblivious to the fact that he prefers Zoe. It is very obvious that Melissa fancies Dan and there are only a couple of episodes that show this but they are very obvious examples. Episodes include: "The Germinator" and "The Dark Wizard".
Melissa Albright is referred as a maniac because she goes to all of the 23 clubs, including the chess club, the choir, the brass band, the drama group, and many more. Zoe joins many of the clubs at Saint Hearts because of Melissa.
Gallery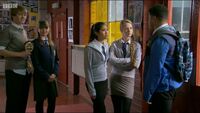 Ad blocker interference detected!
Wikia is a free-to-use site that makes money from advertising. We have a modified experience for viewers using ad blockers

Wikia is not accessible if you've made further modifications. Remove the custom ad blocker rule(s) and the page will load as expected.