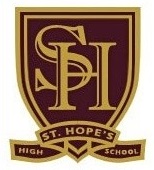 Overview
Saint Hopes High School is a British school. It was the former host of M.I.9's M.I. High Project until Series 6 when it was relocated to Saint Hearts.
M.I.9
Because of the top secret M.I.9 base underneath the school, it is often used for high profile occasions and has visits from VIP's (Very Important Person). M.I.9 missions regularly use the staff and students for cover stories.
Staff
Students
Trivia
The rest of the teaching staff are rarely shown. They have only appeared in a few episodes for brief moments.
Scenes at Saint Hope's were filmed at the old Eastbury Comprehensive School site on Dawson Road for Series 1, Christchurch School in Finchley, North London for Series 2, Old Blessed John Roche Catholic School for Boys in Poplar, East London for Series 3 and Selhurst High School in Croydon, London for Series 4-Series 5.
Gallery
Ad blocker interference detected!
Wikia is a free-to-use site that makes money from advertising. We have a modified experience for viewers using ad blockers

Wikia is not accessible if you've made further modifications. Remove the custom ad blocker rule(s) and the page will load as expected.