Sally Moreau

Information
Full Name
Sally Moreau
Nickname
The Guinea Pig
Gender
Female
Eye Color
Grey
Hair Color
White/Gray/Grey
Network
Occupation
Scientist
Faction
SKUL
Enemy
M.I.9
Production
Portrayed By
Moya Brady
Biography
The Guinea Pig is a SKUL villain from Series 1. The Guinea Pig's real name is Professor Sally Moreau. She appears with the first episode "The Sinister Prime Minister".
She is renowned for her discredited experiments. When she experimented on herself she turned herself into half human and half guinea pig. She is working for SKUL when she used a cyber clone of the Prime Minister to cause World War III, but Blane, Daisy and Rose stopped her.
She was the first villain in the show, apart from The Grand Master.
Trivia
Gallery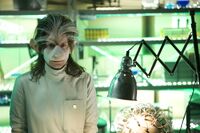 Ad blocker interference detected!
Wikia is a free-to-use site that makes money from advertising. We have a modified experience for viewers using ad blockers

Wikia is not accessible if you've made further modifications. Remove the custom ad blocker rule(s) and the page will load as expected.