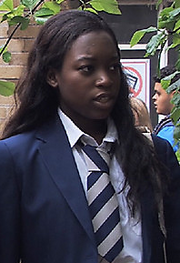 Aniesha Jones is the master of disguise in the group, and was originally spotted by MI9 for changing identities, though this was only noticed by them, and no-one else. According to Stella she was spotted with the president of the United States, the foreign secretary and had a fron
t row seat at the Royal wedding. Her excuse was that she needed big names for her petition of Human rights.
As well as being a master of disguises, Aniesha is very discerning. She trusts her instincts to tell her what's right and wrong; successfully identifying Penny Lane as the Crime Minister and trusting Zoe from the start. Although she has some basic martial skills, Aniesha is not at such a standard as Zoe and Dan , causing her to feel left out when the three go on field work. Because Zoe and Dan are always together, she calls them Romeo and Juliet

Ad blocker interference detected!
Wikia is a free-to-use site that makes money from advertising. We have a modified experience for viewers using ad blockers

Wikia is not accessible if you've made further modifications. Remove the custom ad blocker rule(s) and the page will load as expected.